In this article, we'll cover the following:
I think I have found the perfect breakfast for my pastry-loving tummy.
Waffles and pancakes are my favorite breakfast food, and I can have them every morning. I don't like my waffles and pancakes lonely, so I usually love adding berries, syrups, and dairy products for a happy, healthy morning.
Lately, I've read tons of benefits of using coconut oil. From personal care to household remedies, I've learned how helpful it is in our daily lives. But what's incredible about this 'wonder oil' is that it's so versatile that you can also use it for cooking. Moreover, it's also an excellent and healthy replacement for commercially processed margarine and butter.
How about adding some healthy dose of coconut oil on the waffles? I'll share you my secret recipe on how to make coconut oil waffles.
You'll need the following ingredients to make the tasty coconut oil waffles:
2 large eggs
1 3/4 cups of whole milk
1/2 cup of virgin coconut oil
1 teaspoon vanilla
2 cups of whole wheat flour
1 tablespoon sugar
4 teaspoons of baking powder (aluminum free is best)
1/4 teaspoon of salt
Here's how to do it: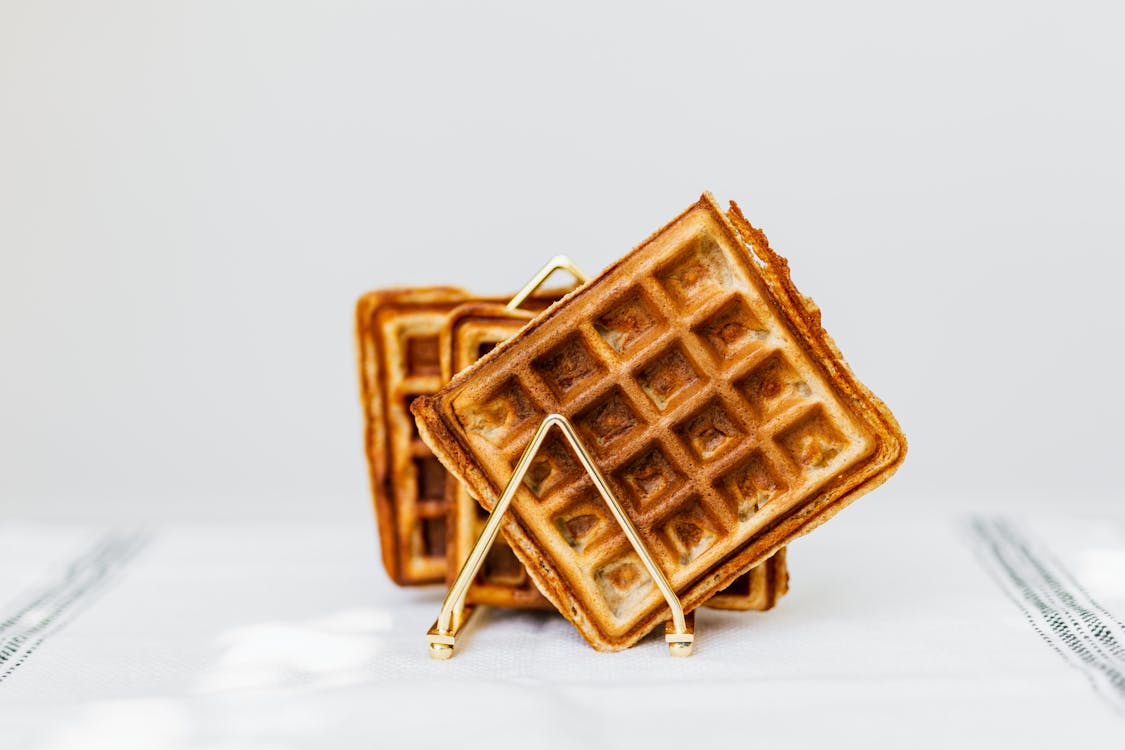 Let's start making healthy coconut oil waffles by preheating the waffle iron.
As a friendly reminder, making waffles is easier if you combine the wet and dry ingredients separately.
So, in a large bowl, beat the eggs first until it becomes fluffy. You can then gradually add the milk, virgin coconut oil, and vanilla. Mix the ingredients well.
Grab another bowl and combine all the dry ingredients: whole wheat flour, sugar, baking powder, and salt. Gently mix the dry ingredients until they're well-mixed.
Now, you don't want a lumpy batter. You can do this by sifting the dry ingredients into a large bowl. Then slowly add the wet ingredients while mixing them with a whisk or a fork. Continue the process until it reaches a soft and mushy consistency. Doing this minimizes the annoying clumps on the batter so you can soon enjoy the warm breakfast waffles. You don't want that flour taste in your mouth, do you?
Let's make the waffles!
Spray the waffle iron with some virgin coconut oil. Pour about two-thirds a cup of the waffle batter into the preheated waffle iron. Now, close the lid and sit pretty for about five minutes or when it stops steaming. Remove the waffles carefully and serve them on a plate while they're mouth-wateringly hot.
Viola! Your coconut oil waffles are ready to serve! This super easy recipe can make about four tasty coconut oil waffles. To make it more palatable, add your favorite berries, jams, or syrup to the coconut oil waffles while it's still hot.
You can have an easy-peasy, healthy breakfast with coconut oil waffles. As you know, it's always best to be healthy. And coconut oil should be recommended as a key ingredient in homemade cooking. It adds some subtle taste and sweet scent to the food, making it so appetizing. Moreover, coconut oil consists of healthy fats, which make an excellent butter substitute in cooking.
Spread the love and tell your family and friends how to make coconut oil waffles!