Ever wonder how you can keep eating fried chicken without worrying about your blood pressure and your calorie intake? Well, don't worry! This article will satisfy your cravings with a healthy recipe that might even be your new culinary expertise!
Fried chicken is one of the favorite foods for many people since they're young. This food may be your all-time comfort food whenever and wherever you may go. It's delicious, crunchy, and you can buy this food in almost every restaurant in the world.
Admit it, overeating this food can cause you big trouble.
This diet is rich in fat and calories. Since this food is mostly cooked deep-fried, the chicken absorbs the fats of the oil which may be harmful to your health. Overeating fat laden foods may raise your blood pressure and cholesterol levels, which are risk factors for heart disease. You wouldn't want that to happen, right?
Maybe it's time to cook fried chicken your way. Why? Because by doing so, you can control the oil used and you can play with other health supplements that can go well with it.
How do you do it?
This recipe can be done in few easy steps. But first, prepare all the ingredients.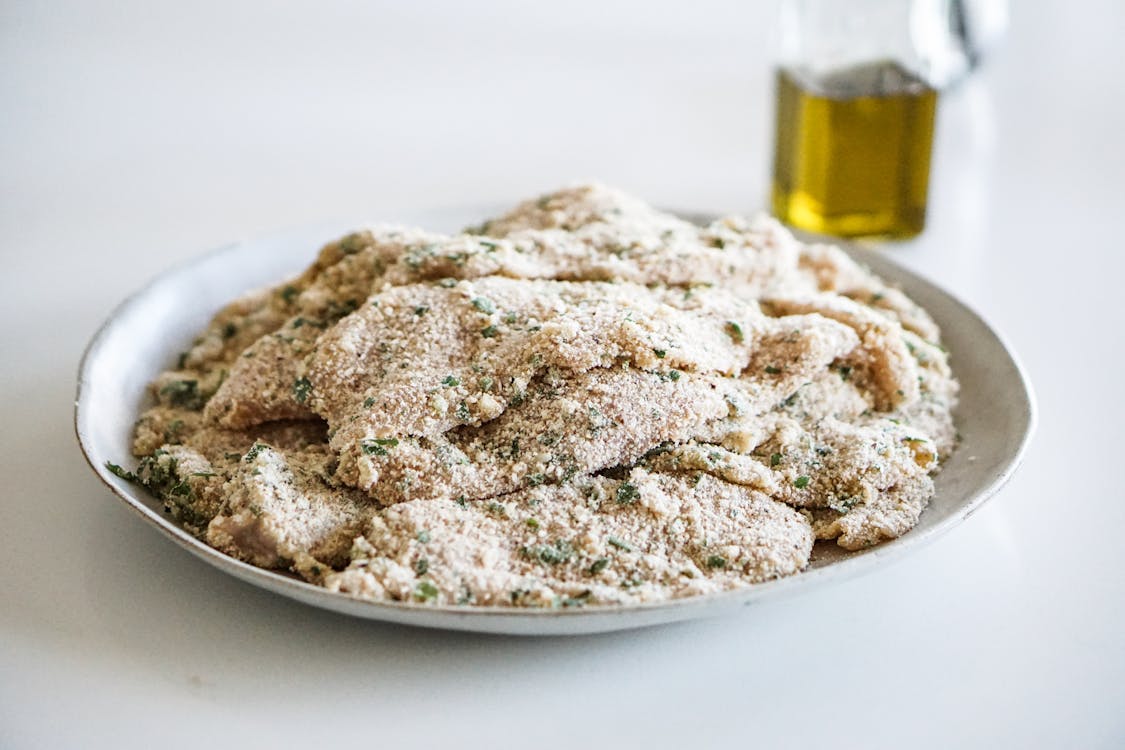 Ingredients
For Marinade:
Three cups buttermilk
One tablespoon garlic
Two tablespoon salt
One tablespoon black pepper
Two tablespoons fresh or one teaspoon dried parsley
Two pounds skinless, bone-in chicken drumsticks and thighs
For Breading:
Two cups of cornstarch
Two tablespoon thyme leaves
Two tablespoon sea salt
For Frying:
One to two cups coconut oil
Three cloves garlic, chopped
Four stems fresh curry leaves (separate the leaves)
You can add more herbs in the ingredients to make it healthier. And you can also change the volume of the ingredients, but don't forget to balance everything. The result might not be appetizing if not balanced. If you're done preparing all the ingredients, you can now start cooking.
Here are the directions:
First, marinate the chicken. This method helps make your chicken juicy.
To marinate, pour the buttermilk in a large bowl.
Add garlic, salt, black pepper, and the parsley. Mix well.
Then, add the chicken. Combine the chicken with the marinade.
Marinate the chicken for two or more hours in a refrigerator. The longer, the better. This method gives the chicken a lot of time to absorb all the nutrients and the flavor of the marinade.
While waiting, place the cornstarch in another large bowl.
Add thyme leaves and salt. Stir and mix well.
It's frying time!
If your marinated chicken is ready for frying, place each chicken, one by one, in the breading mixture. Let most of the marinade mixture drip off and then dredge both sides in the breading mixture, and set aside.
Place a frying pan on a stove and set it on medium heat.
Heat coconut oil in the frying pan. Then put the chopped garlic and curry leaves. Saute them until golden brown. You can choose between letting them sit in the pan until you're done frying, or you can take the sauteed spices out of the pan once it's already golden brown.
Place the coated chicken in the pan and let it cook for 4-5 minutes, or until the chicken is golden brown.
Once cooked, put the chicken on a paper towel to remove excess oil. Let it cool for a few minutes and serve with chopped curry leaves as toppings.
Your healthy homemade fried chicken is now ready to serve!
Easy, right? No need to go to restaurants and line up to order your favorite fried chicken. You can do this by yourself at home. It's even healthier!
You might be thinking "Yeah, it's easy, but is it healthy?" So, here are the benefits of some ingredients in this recipe.
Health Benefits of Some Ingredients in this Recipe
1. Buttermilk
You might think that it's a blend of milk and butter. But no, it's a derivative of butter. It's prepared using a few spoons of natural yogurt mixed with water and blended well. You can add herbs to the mixture to make it more beneficial for your health.
This product is good for digestion. It has many nutrients like proteins, carbohydrates, lipids, vitamins and essential enzymes and makes a complete meal anywhere, anytime.
If you feel bloated after every meal, you can drink buttermilk to make you feel less bloated. It also has a cooling effect in the digestive tract, which is helpful in reducing body heat.
Buttermilk also helps wash down oily food and fat in your stomach. It's a natural food that aids in improving stomach activity.
Adding buttermilk to your foods can help in your food intake, chickens soaked with this is healthy.
2. Salt, Pepper, and Garlic
Adding natural supplements in your food is helpful in having a healthy lifestyle. They enhance the taste of your food, and they're also full of nutrients.
Garlic is proven to be effective to give anti-cancer benefits. It is used to treat many conditions about the heart and the system of the blood.
Another spice in the recipe is the pepper. There are many kinds of pepper, and all of them have nutritious benefits in our body. Pepper functions as antioxidants that help in cell damage, cancer, and diseases related to aging. It's also antibacterial which helps in the preservation of food. Other than that, it's also a good anti-inflammatory agent.
3. Curry, Thyme, and Parsley Leaves
Herbs may help heal wounds faster with its nutritional contents, and also deliver a host of benefits to our body. They also strengthen the immune system, lower blood sugar and cholesterol. They have anti-inflammatory properties and may provide nutritional benefits for people with Alzheimer's disease and various types of cancer.
Curry leaves, for example, is good for weight loss. This herb can help in the proper digestion of food and alters the way your body absorbs fat. The natural flavoring agent has antioxidant properties that may help in controlling diarrhea, diabetes, and other illnesses.
It's rich in nutrients like carbohydrates, calcium, phosphorus, iron, and vitamins. Curry leaves help in the proper functioning of the heart, fight infections and can help restore your hair and skin's vitality.
Thyme is one of the members of the mint family and contains thymol (a potent antioxidant). You can use this help to treat wounds. This herb also contains Vitamins A and C which are responsible for bone growth, healthy immune system, and damaged tissue repair. Thyme leaves are also helpful in treating gum infections, and can even give you a fresh breath. The main component, Thymol, is also one of the ingredients in Listerine®.
Adding thyme leaves to your meal can make you feel refreshed and healthy all day.
Parsley has the same benefits as other herbs. It has Vitamin A and C which is responsible for boosting your immune system. It's also good for the heart and helps balance the hormones. You can also add this herb as a topping of your meal to make it even more presentable. Aside from that, it also keeps you refreshed.
4. Coconut Oil
We mustn't forget coconut oil, which has a wide array of incredible health benefits. It's good for the heart and in strengthening your immune system.
This product is known for its fatty acids that are beneficial to your health. Coconut oil contains 90% saturated, and if you think it's unhealthy, these fatty acids work the other way around. Some fats aren't healthy for your body, but fats in coconut oil are proven to be of great help in your body.
Coconut oil is also good for losing weight as it helps burn excess fat from your body. Fatty acids in coconut oil are metabolized, which makes you eat less because it reduces your hunger.
Any food tastes awesome with coconut oil. These are just some of many nutritious benefits that you can get by adding these ingredients to your food.
Now, you can eat your favorite fried chicken, guilt-free. No more worrying about your weight, your calories, and your cholesterol level. You can eat a healthy and savory home cooked fried chicken!