If you once loved pumpkin soup but decided to become vegan, wouldn't there be any way to eat it again? There is! This article will show you how to make a Coconut Curry Pumpkin Soup that's entirely vegan! We're going to use coconut oil instead of butter. Coconut milk extract is also used instead of milk or cream. We'll also add a bit of spice to give it an extra flavor.
Why should you try it? We're using coconut oil, which has many health benefits due to its medium chain fatty acids that work miracles. Also, the pumpkin ingredient is good for the heart since it contains fiber, potassium, and vitamin C. These ingredients can also help boost your immunity with the pumpkin's Vitamin C and coconut oil's antimicrobial properties.
The curry powder also has several health benefits, including heart health, relief from pain and inflammation, and bone health. It also helps boost your immune system.
There's no doubt that this coconut curry pumpkin soup is to die for!

Here's what you'll need to enjoy your pumpkin soup healthier!
Preparation time is 20 minutes, and it'll be ready in 50 minutes. You'll need a deep pot and a blender for this recipe. It takes about 6 servings with 171 calories for each serving.
¼ cup coconut oil
1 cup light coconut milk
1 can (15 oz.) 100% pure pumpkin
1 cup onions, chopped
1 clove of garlic, minced
3 cups vegetable broth
½ Tsp. salt
1 Tsp. curry powder
¼ Tsp. ground coriander
¼ Tsp. red pepper flakes, crushed
Procedure:
Over medium heat, place a deep pot and pour in the coconut oil.
Add the garlic and onions. For 5 minutes, let it cook until the onions become translucent.
Stir in the curry powder, vegetable broth, ground coriander, salt, and red pepper flakes.
Cook the mixture while stirring continuously for about 10 minutes or until it comes to a gentle boil.
Place a cover on the pot and leave it for 15 minutes. You can leave it for 20 minutes more if you feel there's a need to. Stir it every once in a while.
Now add the pure pumpkin and light coconut milk and let it cook for another 5 minutes.
Then, pour the soup into a blender. You can work in batches to give the soup more space to blend. Process it until it's smooth enough.
After processing the soup in the blender, put it back in the pot and briefly reheat it over medium heat.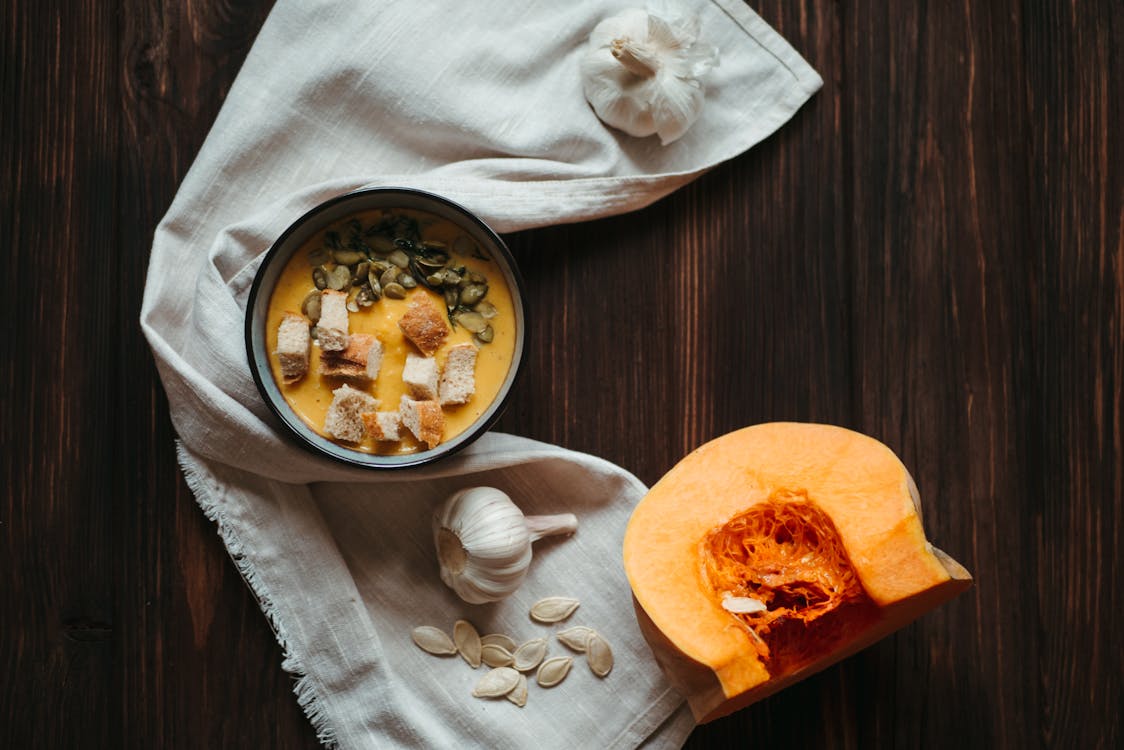 Finally, you're ready to serve your mouth-watering coconut curry pumpkin soup with coconut oil and milk! Indulge!
There's your healthy recipe for coconut curry pumpkin soup! Serve it to your family as an appetizer, or if you're all up for a light meal, enjoy its delicious taste and healthy offerings. Share this recipe with your fellow health-conscious friends and family so they can enjoy this delicious soup.