Coconut oil is the most common ingredient in beauty products, as everyone advertises that it's the best for all skin problems–from head to toe. While that is amazing, it'd be more amazing if it was true. Unfortunately, that doesn't apply to all because every individual's skin reacts differently. That said, it's best to know what ingredients aren't compatible with your skin for a seamless beauty routine. We need to take care of our skin to look good and avoid skin diseases. Of course, our environment is a major factor in this, but so are the chemicals in beauty products that we use.
Now, if you're sure that Coconut Oil is the best choice for you, then you're on the right website.
Coconut oil is popular for its ability to help smoothen your skin after consistent application. It is said to lessen acne and eczema and even help your hair's growth. Please remember that coconut oil can't magically make acne or eczema disappear but will only help reduce it. It doesn't improve your hair's growth twice than normal, but it does help make it smoother and softer to the touch.
So how do you add Coconut Oil to your beauty routine? You can use it in the shower before you sleep and even when removing makeup. Please remember to always consult your dermatologist before deciding to do so.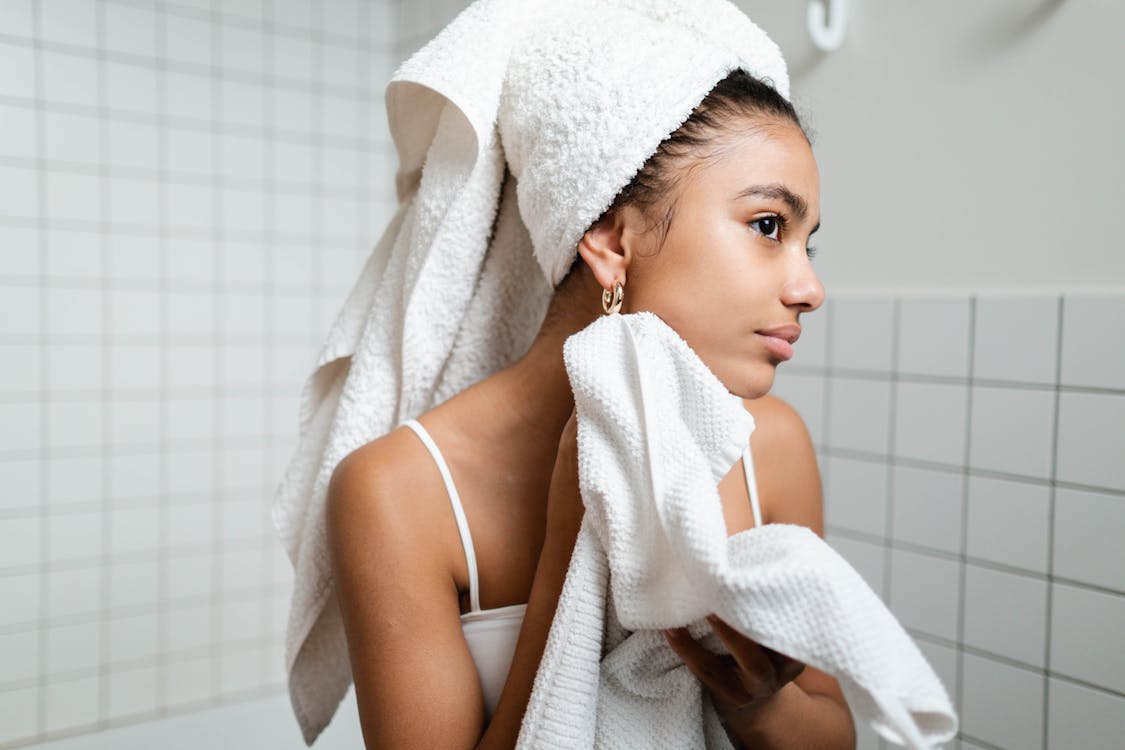 Here's a breakdown of the list of things you can make use of with Coconut Oil in your daily beauty routine.
Relief for Eczema
As the sub-title suggests, you can use coconut oil as a way of relieving any scratches or dryness from eczema. It doesn't, however, make them completely disappear. Instead, it makes you feel a little bit better and fresher than normal. You can apply coconut oil on those spots after or during your shower in the morning and at night before you sleep.
In 2014, research suggested that coconut oil is a better eczema soother than mineral oil.
Body Moisturizer
Dermatologists don't normally suggest putting coconut oil on the face, as skins are naturally prone to blemish—this doesn't apply to the body. The body has better chances of adjusting to chemicals, unlike the face. Coconut oil has anti-inflammatory and antibacterial properties, which are great factors in improving the skin's health—especially the fatty acids.
According to board-certified dermatologist Doctor Robert Finney, fatty acids in coconut oil can help the body in two ways: provide barrier control against diseases and moisturize the body.
Makeup Remover
It is a pretty common sight among most women removing makeup at night after going out with friends or just having some time alone to unwind. While numerous products ensure a clean swipe with their products, coconut oil promises the same thing—but with solid ground.
So why is it a great makeup remover, and how can it be on par with popular brands' makeup removing products? Coconut oil breaks down sebum, the one responsible for oily skin, especially after removing makeup or when you still have makeup. It is also able to pluck out lipid-soluble impurities in makeup. It is best to keep in mind that just wiping your makeup off with coconut oil is not enough to ensure that your face is already clean and safe from leftover bacteria from the chemicals in the makeup. Coconut oil is best as an initial cleanser, and afterward, washing your face with water for better cleansing.
If you have naturally oily skin, though, dermatologists strongly recommend that you use a gentle water-based cleanser after using the coconut oil. Because while coconut oil is great at cleansing dirt and other makeup residues, it tends to leave an oily trail that may result in breakouts—hence, the suggestion of cleansing it with water afterward.
Deep Conditioner
If you're struggling with finding the best product to improve your hair's health and growth, then coconut oil can help you with that. You can use the coconut oil as a conditioner in the shower or leave it on to let it sink into your brittle hair and then to your scalp. Frequent use can help improve your hair's health and may contribute to the growth of your hair. Of course, it won't immediately take effect, so using it consistently would be better for the result you expect.
Lip Balm
Dry, cracked lip skin isn't at all that pleasant, especially when there's that sudden sting of pain when you stretch your lips out. Dryness of the lips is usually due to a lack of water, so hydrating yourself is a major thing to do. Coconut oil, then, comes in second. Apply on your lips as you would with a lip balm. The fatty acids in the coconut oil create a thin barrier to help keep the moisture and block out irritants. It is very effective. Chapped lips will also find coconut oil to be of great help.
Deodorant
Body odor is a result of bacteria, and coconut oil does its best to kill bacteria. Hence, yes, you can use coconut oil as a deodorant. It helps reduce the bad smell coming from the odor and ultimately destroys the bacteria with consistent use. There are products, of course, that use coconut oil for their deodorants, and one of these is Kopari's Coconut Oil Deodorant. The deodorant is free of two ingredients that irritate the skin and make it worse: baking soda and aluminum.
Hair Protector
It is best to keep Coconut Oil in mind, especially for the Summer season when everyone goes to the beach. A great way to protect the tips of our hair from getting dried up due to the sea is to slather it with coconut oil before dipping into the sea. The coconut oil is a natural shield for your hair against dryness, and consistent use of it, whether you're going to the sea or not, will show you massive improvement in your hair's health.
Wound Cleanser
With the antimicrobial property present in Coconut Oil, it is safe to assume that it's effective on minor cuts and burns. Dermatologist, Doctor Finney, says that the oil can help in the wound's cleansing and closure.
Coconut Oil has so much to offer to everyone for everyday use—even in our beauty routines. As long as you discuss this with your dermatologist to ensure your skin's safety, then there won't be any problem at all.